2:20AM
2:20AM is important theatre…a beautifully powerful new work ★★★★ THEATREPEOPLE
Writer: Rebecca Lister
Director: Hallie Shellam
Cast: Joanne Davis, Zoe Ellerton Ashley, Michael Treloar, & Izabella Yena.
Sound Design: Darius Kedros. Lighting Design: Megz Evans Stage Manager: Genevieve Davidson Dramaturg: Mari Lourey
Publicity: Eleanor Howlett (Sassy Red PR) Design: Sam Gowing Design Consultant: Kat Chan
Produced by Anvil Productions in partnership with Jesuit Social Services & Support after Suicide.
The 2018 Melbourne season at Richmond Theatrette was proudly supported by the Victorian Government through Creative Victoria and the City of Yarra.
REVIEWS: My Melbourne Arts; Theatrepeople; The Plus Ones; Be Melbourne; The Melbourne Adviser; Arts News Portal; Eureka Street
AUDIENCE RESPONSES
RADIO INTERVIEWS: Conversation Hour; RRR; SYN FM; 3CR
New Sculptures by Geoff Bonney
Presented by Anvil Studio:
Carved & Painted wooden sculptures of men and women from small to tall.
'... they wear the detritus of being human with a formidable presence. Grotesque, ridiculous, vain, dignified; we find ourselves exposed in these sculptures.'
Influenced by indigenous Aboriginal wood carvers, primitive African sculptures, Picasso and Paul Klee ... with a lot of Bonney humour thrown in.
Geoff Bonney has spent 50 years working as a visual artist in Australia, United Kingdom, USA, Spain and Morocco. HIs work is represented in public collections in Australia & Internationally, and in private collections throughout the world.
'The unequivocal artistry, dexterity and inventiveness of these sculptures denote certain core values of the artist and candid themes which suggest that fads don't dictate his work' Columbia Winterton, North West Melbourne News
IDentity Short Film Project
In Jan/Feb 2017 Anvil Productions collaborated with Short Black Films and young people from Mount Isa to develop the IDentity Short Film Project and Festival.
Watch the films below
HERE
Click here to view images, video and additional information about HERE
A forbidding town, an unforgiving climate…a glimpse into the lives of three rurally isolated women all wrestling with the HERE of heart, mind and place.
Written by Rebecca Lister
Director and Dramaturge Terence Jaensch
Performed by Joanne Davis, Annie Lumsden and Donna Steven
Sound design – Michael Roper, Lighting design – Jessica Cornish, Set design – Robert Kelty
I really loved HERE…it seems rarer and rarer that you see work with aesthetic and conceptual integrity. The simplicity and humanity of the content and telling of the stories was really satisfying…I don't know anyone who wouldn't enjoy it…a beautiful show. Megan - audience member
HERE - bloody magnificent pieces, fabulous writing, and of course I love it because there were actual real live women being represented on the stage, too rare. Marianna - audience member
Really really enjoyed HERE, love the silences and the delicate connections across them, very subtle, but so effective. Penny, writer and audience member
Many thanks for a lovely piece of theatre last night. We were immersed in the world of those 3 women and their community right, from the start. Such an eloquent stripped back script…moving performances – each one of them with a different but compelling energy. This is what a night of theatre is meant to feel like. Jill & Robin - audience members
This project was supported by the City of Melbourne 2015 Arts Grants Program.
PHOTO: Pier Carthew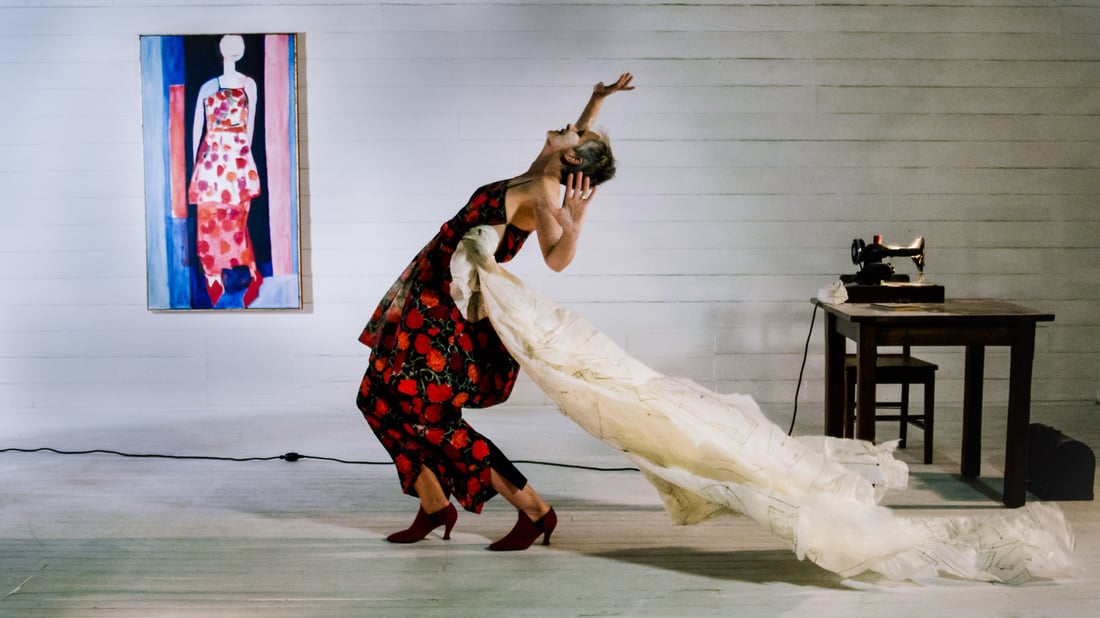 Betrayal in a Valentino Frock
Red lipped haute couture, bursting at the seams.
A woman is cocooned in the veils she keeps. Or is she?
Does she watch from within or tangle & betray herself?
Concept by Joanne Davis
Created by Joanne Davis, Sarah Lloyd, Justin Batchelor, and Eve Klein
Debut Screening: Flooding in the Garden, Abbotsford Convent.
RBF
'always entertaining, never didactic' Shane Grant, Metanoia Theatre.
Do you suffer from resting bitch face? Do you know someone who does? Have you ever judged a woman as 'stuck up, cold, or angry' because of her resting features? Why are unsmiling women thought to be bitches? Why is there such societal obligation to conform and please others?
Concept by Rebecca Lister
A collaborative live art performance at Metanoia Theatre, featuring Joanne Davis, Cathy Hunt, Rebecca Lister & Cait Spiker.
'So arresting; the language, the form - in the round, where we, the audience, were so implicated in the work, because of course the concept of 'resting bitch face' is all about the viewer. I'd love to see where this could go' Hallie Shellam – actor, director, theatre maker.
Am I Happy Yet?
A poignant and humorous exploration of western society's obsession with happiness and the consequent pathologising of sadness by Rebecca Lister, Joanne Davis and Sarah Lloyd.
In December of 2012 Lister, Davis and Lloyd worked together develop phase one of Am I Happy Yet? using an intensive 'hothouse' model in order to work quickly and under pressure to develop the first script. This script was then showcased to community members and industry peers.
What the audience said:
Challenging, got under your skin.
'It stayed in my head, on top of everything for a couple of days,, very strong'
Absolutely brilliant!
I feel "Normal".
Emotionally engaging. Very real.
Supported by the City of Ballarat
IMAGE: Sarah Lloyd
Bits And Pieces
How do we respond when a mother challenges the status quo and leaves her child?
Short Synopsis: Joy has decided to leave her husband and child. Her husband is shocked, her mother disbelieving and her sister sanctimonious. With comedy and pathos, Bits and Pieces explores four perspectives of one mother's decision to leave. You'll laugh, cry and relate.
Written By: Rebecca Lister
Directed By: Terry Jaensch
Performed by: Joanne Davis, Michael Treloar, Beverley Geldard and Rebecca Lister
Everybody has a mother, knows a mother or perhaps is a mother. How we are mothered is often seen as imperative to how we develop and see ourselves in the world. In most societies 'mother' is revered. Whilst many rejoice in their role as mother, for others it can produce great ambivalence.
Short Review: I found myself both moved and surprised by Bits and Pieces. The clever structuring of four monologues slowly & simultaneously weaves together and unravels a complex patchwork of story, character, psychology and emotion that radiates from one central action. Bits and Pieces is challenging, engaging, humorous, bleak, warm and shattering. Catherine Ryan, Playwright and Theatre Maker, January 2014
Supported by Mount Alexander Shire Council
Snapshots
Stories of those on the margins - commissioned work for Jesuit Social Services annual dinner.
Written by Rebecca Lister, performed by Joanne Davis with video projection by Renata Botelho.
Videos from the production can be found at this link.
Supported by Jesuit Social Services
Foxholes of the Mind
by Bernard Clancy
Frank is a war veteran. He's an angry, disturbed man dealing with Post Traumatic Stress Disorder. His long suffering wife, Trish has had a gutful. It's crunch time. Get help or get out!
'A production of power and eloquence ... the most potent anti-war play I have seen. Ever.' Colin Mockett, Entertainment Geelong
Directed by Wolf Heideker. Produced by Larrikin Theatre.
Cast: Joanne Davis, Peter Finlay, Victor Gralak, Maureen Hartley, David Lih & Adrian Mulraney.
Image: courtesy of Graham Hartley
Empty Chair
Joanne Davis worked as dramaturge and drama coach on 'Empty Chair', in collaboration with Andrew McSweeney (Living Music). 'Empty Chair' was written & performed by Kensington Community Elders as part of the Victorian Seniors Festival.
'beautifully crafted and poignant performance' Pam Temby, Flemington Kensington News
Audience reviews:
'It felt so raw and real, I was really moved'
'a show with a lot of heart and showed that everyone has a story, and an interesting one at that!'
'… so funny, and at times and I was close to tears'
Supported by the City Of Melbourne and Urban Communities